Natalie Guillon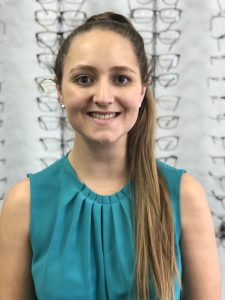 Bachelor of Vision Science/ Master of Optometry
Natalie Guillon moved to Geelong, Victoria, to study the Bachelor of Vision Science/Master of Optometry course at Deakin University. During her studies she undertook placement at the Australian College of Optometry (ACO) in Melbourne, and was the recipient of the Australian College of Optometry Award for the Most Outstanding Graduate 2016 (Deakin University).
In addition to working at Eye5 Optometrists, she has also worked alongside a number of ophthalmologists at the Lions Eye Institute, and spent some time working in Kalgoorlie, which complimented her optometry work by expanding her scope of skills, experience and knowledge. Natalie is passionate about looking after her patients and their needs. She has a special interest in contact lenses, binocular vision / children's vision, and the early detection of eye diseases.
Aside from her work, she has a love for basketball, which she played competitively for the Perry Lakes Hawks for a number of years. She also enjoys traveling – some of her favourite countries visited include Namibia, Philippines, Laos, France, Italy, Spain and Sri Lanka.